An amazingly contradictory example of both ambition and trashiness, this Canadian company managed to create some of the most memorably-bad games available within the Western VN market. While they definitely never showed the kind of contempt for their audience and lack of dignity that emanates from pretty much every new Winged Cloud title or the Steam asset flip/achievement spam VNs (yes, those are a thing – I will get to them one day), their utter failures and misguided elements in their projects are not something you see every day – and, as they belong to commercial products that
ask
money from their readers, they're open even for the more cruel kinds of scrutiny. And that's exactly what I'm going to deliver upon them today.
Yuri Game Jam entries usually are published for free, even though some of them offer quite impressive production values and interesting stories. A Wild Catgirl Appears is a double exception in this regard, as, sadly, it's neither free nor in any way compelling to play through. With extremely basic and mostly nonsensical plot, clunky dialogue and a plethora of technical issues, it's one of the least competent commercial VNs available on Steam (at least among actual games and disregarding the aforementioned asset flips and achievement spams). It might also be the only VN in which I count the inclusion of catgirls as a negative, considering how superficial the reason behind their appearance is and how they take the focus from the only somewhat-interesting characters in the game. Even
yuri
romance couldn't redeem this title to me, considering its generally miserable state – sadly not worth your time, and especially your money.
Final rating: Smelly Poo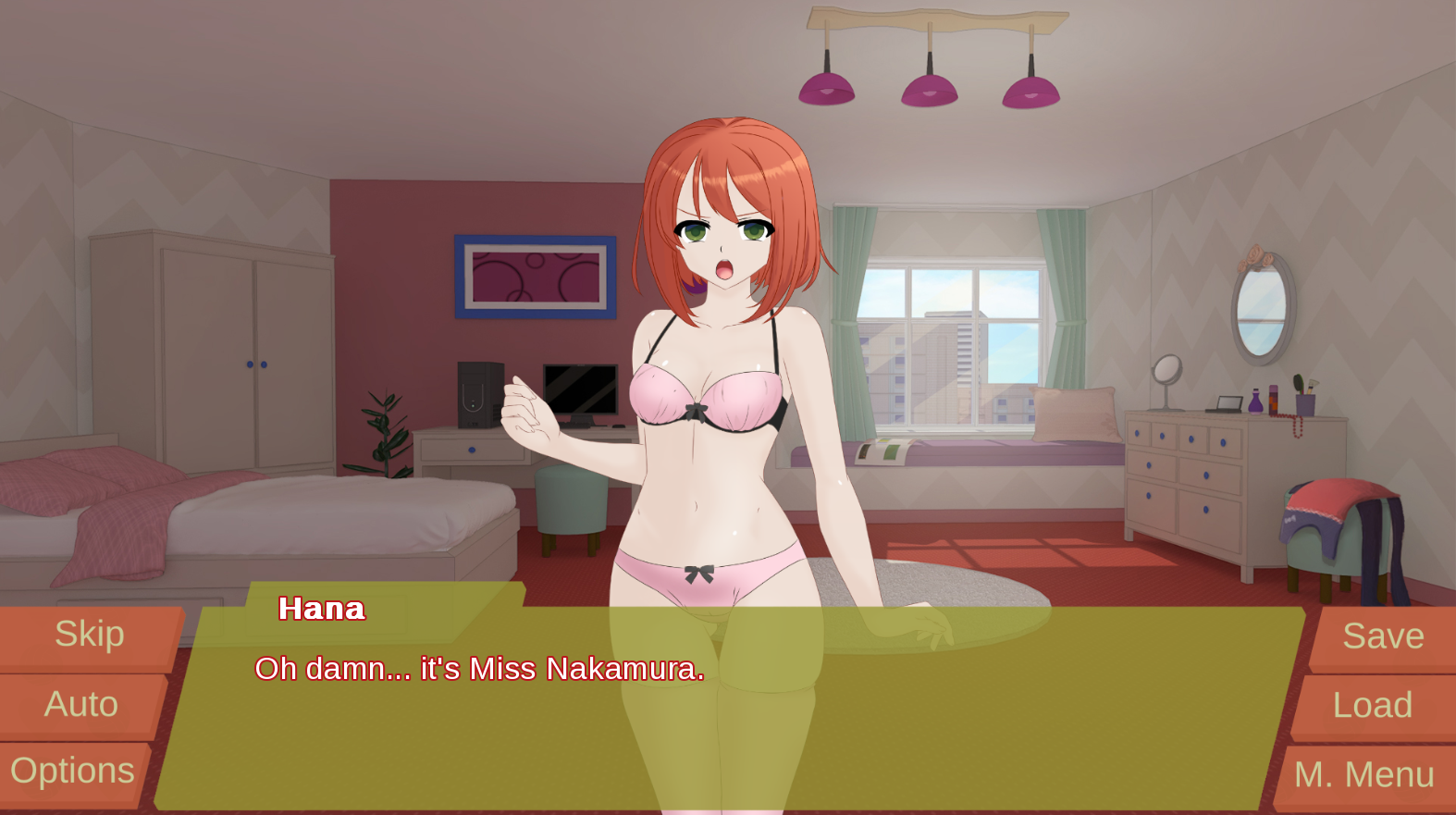 Originally another Yuri Game Jam entry with... Highly questionable art, it's a title that definitely missed the memo reminding everyone a nukige shouldn't
threaten
to give you
nightmares
unless it's
guro
. The commercial version made some improvements in that department, but still rather minor ones, while other problems, especially the obnoxious protagonist claiming that becoming a cam girl is a legitimate career choice, stayed exactly where they were. Same goes to the game's very short reading time and hentai segments that are not too pleasant to look at (which, once more, is not where you want your porn VNs to ever be). Questionable even as a free product, but definitely not worth paying for.
Final rating: Smelly Poo
A part
"yuri", part "otome" romance VN (that is actually neither) with a long common route which perfected the forbidden martial art of boring its readers to death. That situation was not made any better by inclusion of some seriously annoying partial voice acting (even though the fully-voiced sections are actually of decent quality, voice cues appearing at random moments really don't help the experience) and one of the least visually-appealing GUI's I've seen in VNs (devs, details matter, really!). The few interesting moments are mostly drawn in tons of dry dialogue and awful pacing, although the one well-written and genuinely emotional route (Nanami's) is nearly worth it. Nearly.
Also, trigger warning: this is probably the only VN I know that includes two
dead-end
romance option, which means that half of the romanceable cast
does
not have a good ending, only some rather nasty negative ones. While I personally didn't mind it that much, some people were genuinely disturbed by how the story was developed. If you think your heart might be broken, read a walkthrough on which characters don't have good endings – read safe!
Final rating: Rabbit Poo
One of the strangest yuri eroge I've read, Ecchi Sketch involves a lesbian mangaka protagonist, who after being from a boring graphical design job starts working as main artists in an aspiring yuri manga company. There, she can fall in love with one of three of her female coworkers, all closeted lesbians (lesbians in denial?). And while this might sounds standard enough, the details of this "romance" is something else entirely, as it involves, in all of the routes, tons of strange, borderline abusive sexual encounters (usually interpreted as "testing" scenarios for the smutty comics the whole team is working on). In every route, this VERY extensive (and no less explicit) sexual content transition into a brief episode of drama and then… It ends. Abruptly. The yuri porn, however, definitely is there and with quality and variety better than in any other NWG title – if that's what you're after, this one might just be very much worth it.
Final rating: Rabbit Poo
In the end, I don't enjoy shitting on NewWestGames's projects the way I do enjoy making fun of studios like Winged Cloud, who engage in shady business practices and poison the EVN well for all of us. Katie, the person behind the NWG label, is not in any way a bad actor. She is, however, a developer that consistently produces questionable results and most of her games, as products sold to people on Steam and other platforms, do not warrant any other reaction than lighthearted ridicule. I hope these
complaints
and ones from people with a perspective similar to mine will help her improve in the future – after all, I'm not a person that would ever tell a yuri developer to stop doing their thing. :3
PS Again

,

my special thanks go to Bosskwar, who made this series possible (or at least much more enjoyable to make) with his let's play videos.