For the last month, we were going through the impressive catalogue of free VNs by
ebi
-
hime
, one of the most celebrated creators within the Western VN scene. As a conclusion to this series, it's my great pleasure to bring you a short interview with none other than
ebi
herself. During our conversation, I've focused on the dominating themes in
ebi's
works and topics directly connected to the freeware titles I was reviewing lately – if you want a more general overview of her inspirations and questions connected to her other work, consider reading the interviews done in the past by The Yuri Nation and Sekai Project. Also, if you're not familiar with
ebi's
free VNs, check out my previous posts about them (Part 1; Part 2) – they should give you the context necessary to understand what we're talking about in the more context-specific questions. So, here it comes – hope you'll all enjoy it!
---------------------------------------------------------------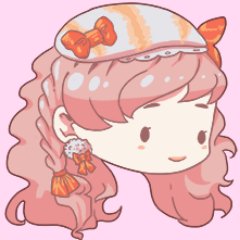 Plk_Lesiak: Thank you for accepting my invitation! I don't think there are many Western VN fans who wouldn't be familiar with your work, but can you share something about the person behind the
ebi
-
hime
label?
ebi-
hime
: I'm
ebi
and I like cute things, maids, and magical girl anime... And that's about it! Honestly, I'm not very interesting.
PL: As you talked about your inspirations and interests in other interviews, I would like to focus on the dominant themes in your games. You're one of the few EVN authors that frequently set their stories in the West. Do you have a favourite setting to write about?
ebi
: I think England is probably my favourite setting to write
about,
because it's the country I live in and I'm reasonably familiar with it (though I don't know everything about England, of course). It's easier to place my characters in a setting I know relatively well, as I don't have to do as much research, and the end result feels more 'authentic'.
I also like setting stories in Japan because I got into VNs through reading a lot of Japanese VNs which were (what a surprise!) set in Japan. I also watch a lot of anime, and I went through a period where I exclusively read Japanese crime fiction, so I'm fond of Japanese settings! If I don't feel like setting my stories in England or Japan, I'll usually pick a European country I'm somewhat familiar with, like France or Italy.
PL: Much of your work is yuri-themed, including some unusual setups for f/f romance. How did Samuel Taylor Coleridge become a woman?
ebi
: I love Romantic poets (especially Coleridge) a lot, and I really, really, really wanted to write a VN featuring him as a character, but dropping a real, historical figure into a fictional story felt kind of weird. Changing him into a cute girl made him feel distant enough from the real person that I could write about him without feeling too awkward.
Turning male historical figures into cute girls is also pretty popular in VNs, so I thought I might as well! Girls are cute! Although I think the real Coleridge you can see in his personal letters/diary entries is cuter than Samantha…
PL: Girls are cute indeed, but especially in Asphyxia, you ended up creating a really "heavy" story with a very cute exterior. Was this contrast something deliberate?
ebi
: I wanted a very soft, almost doll-like art style for Asphyxia because I thought it would complement the mannered, flowery writing style. The character designs themselves are quite cute, but I think they're drawn in a style that's enough of a departure from a more traditional 'anime' style that most people would realise Asphyxia is not a 'moe' VN based on the screenshots?
I wasn't trying to use the art to trick
anybody,
or make the story seem cuter than it is. I chose the art because I thought it enhanced the story's gloomy atmosphere.
Asphyxia
PL: Still, Yuri romance is also pretty commonly associated with something light-hearted and a bit saccharine, like Kiss for the Petals series for example. Were you worried about the reception of your early yuri titles, considering how much they deviated from this formula?
ebi
: The first yuri story I ever read was the manga Gunjo, which is very grim and dark and lots of horrible things happen to all the characters, so maybe that's where I drew some of my initial inspiration from.
Initially, I wasn't worried about the reception Asphyxia might have because I didn't intend to release it. I wrote it solely for myself, and I made the prose as pretentious and the content as depressing as I wanted because I figured nobody else would have to suffer through it. Then, I stumbled across SillySelly's art, and I thought it would be so perfect for Asphyxia I decided to commission her. I still thought about keeping the story solely to myself, but I thought her art was so gorgeous it would be a shame not to release it and share it with people. My reasoning was, even if people hated the writing and the story, they would probably still like the art!
PL: Even beyond Dejection and Asphyxia, many of your protagonists are writers or poets. Do they reflect your personal passion for writing, or is there something else that draws you towards this archetype? Have you done much writing beyond visual novels?
ebi
: The characters in Dejection and Asphyxia write poetry because they're all based on poets. I'm pretty terrible at writing poetry myself, and I don't like doing it. Moreover, my interest in the Romantic poets mostly stems, not from their actual poetry, but from their lives and their personalities, since they were all very melodramatic (apart from maybe Wordsworth) and they did a lot of ridiculous things.
I've written a few original characters who are authors (Blake from Where the Sun Always Shines and Eiji from Six Days of Snow are the best examples) because I like writing, so it's a hobby I can understand and talk about somewhat credibly. Still, I try not to make all my protagonists writers, or even interested in literature, because I'm afraid it might get boring.
I used to write my own 'original stories' in my notebooks when I was about six or seven, and I wrote a lot of fanfiction between the ages of 12-18, so I did a bunch of writing before I got into VNs. Unfortunately, most of my old writing is awful, so I'm not going to share it!
PL: Another prevalent theme in your work seems to be depression and mental illness, with a culmination of sorts in Lynne and its gruesome portrayal of teenager's anxiety. What makes this topic attractive to you as a writer?
ebi
: They're interesting themes to write about, and I imagine a lot of people have experience with these issues, but perhaps don't always feel comfortable talking about them? I'd like it if some people could read my stories and relate to some of the characters, and maybe feel a little bit less alone with their worries.
The Sad Story of Emmeline Burns
PL: And one more notable trope – ghosts and afterlife, including lovers, doomed in life, being reunited after death. It seems that most of the romances you write can only ever work out "on the other side", if at all…
ebi
: I don't think I agree with this. I've written a lot of sad/depressing stories, but I've also written several cheerful stories, too! Strawberry Vinegar and Blackberry Honey have happy endings! I also don't view my romance stories where people die and reunite as ghosts as particularly 'tragic'. Emmeline Burns and Windswept Night were both intended to have uplifting, optimistic endings, even if the characters suffer a bit to get there.
I know people can't really come back from the dead to reunite with their loved ones, but that's why writing scenes like that in stories is so satisfying. It's nice giving couples in stories closure even after they're dead, especially because it's not possible in reality.
PL: Visual Novels are often a medium of escapism and wish fulfilment, quite akin to the trashy romance novels you sometimes ridicule in your writing. Yours... Rarely so. Do you ever feel like you should spoil your reader's a bit more, giving them more control and a chance for happier endings?
ebi
: Well, I don't know if the first statement about VNs is entirely true. There are lots of really, really good VNs there that aren't all about escapism and wish fulfilment. The first VN introduced me to the medium was Umineko, which is pretty… not like that. And there are VNs which have fanservice and sex scenes that still tell interesting stories, like the Kara no Shoujo series. I don't really think the stories I write are all that different from many existing
JVNs
, with the exception that I set a higher percentage of mine in Europe.
Though some of my characters poke fun at 'trashy romance stories', I have no real problems with them myself. Generally, I think people should be free to like whatever fictional media they like. I know there's a scene in Empty Horizons where Lyon makes fun of Mireille for reading Totally-Not-Twilight-But-It's-Actually-Twilight, but the scene concludes by saying there's nothing inherently wrong with wish fulfilment stories if they're not harming anybody and they make people happy.
Anyway, with a lot of my kinetic stories, I have a very clear idea of what I want to happen in the story and how I want the characters to act. If giving the reader choices gets in the way of the story I want to tell or the message I want to explore then I won't include any.
Conversely, if experiencing multiple possible outcomes is the 'point' of the story, then I'm fine writing that too (like The Way We All Go). Really, it depends on what I think is best for the story I'm writing. Sometimes I think a story benefits from having multiple routes and different endings, and sometimes I don't. And sometimes I think
a story
benefits from happy endings, and sometimes I don't.
PL: One of your VNs I've personally enjoyed greatly, and which surprised me a lot was Lucky Me, Lucky You. Are we going to see other queer stories in a modern setting from you, or was it more of a one-time experiment?
ebi
: Oh, I'm glad you liked it! I really enjoyed writing Nanami's character – she was a lot of fun. Her 'voice' is also really different than most of my other main
characters,
since she's more abrasive and assertive (but still kind of a sweetheart deep down).
Lately, I've been pretty fond of writing historical stories because I feel like I can get away with being more exaggerated and melodramatic with my vocabulary, but I want to write more modern stuff too! It's fun to experiment with different styles.
PL: In other
interviews
, you mentioned that you have many ideas for light-hearted, cute stories. Still, very few of them turned into actual games. Will there be more of those in the future?
ebi
: Well, hopefully! I'm sitting on a bunch of scripts in various states of being finished right now, and some of these are very light-hearted and goofy. I'd love to make them all into VNs at some point (especially my very cute magical dog girl story, which is a full 26 episodes long!), but I don't have enough time or money to develop too many things at once...
PL: A few months ago you wrote on Twitter that you'll most likely stop making freeware games, as they drain too much of your time and resources. If that really happens, should we hope for more frequent commercial releases from you?
ebi
: I hope so, but I doubt it.
Like
I said, I'm sitting on a lot of scripts for unreleased projects in various states of completion. I'd like to release these more
quickly,
since I'm very fond of some of these stories and want to share them with people, but it's not always possible. I'm not the only person involved in making my stories, and the production can sometimes get slowed down by various factors beyond my control.
It also doesn't help that some of the scripts I've finished are quite long, have a lot of characters, and I haven't started looking for artists or composers for these stories yet. I'd really like to release 3 commercial stories a year, but I doubt it will be possible this year. I'll do my best, though! >_<
PL: Is there anything you would like to share
about
your current plans and the projects you're working on? Will we learn more about the yuri with bunnies in near future? ;)
ebi
: Well, my latest VN, A Winter's Daydream, will be releasing soon! It's quite a light-hearted slice of life/comedy story set in Japan, that features an elderly grandmother being magically transformed into a cute girl.
I was inspired to write this story after stumbling across the 'grandmother x grandson incest' tag on VNDB. I was surprised this tag existed, and I thought it was funny such a niche fetish featured in enough VNs to warrant a content tag in the first place. After looking through some of these VNs, I saw that the grandmother love interests looked rather young and good-looking for grandmothers, and I thought, 'what if I wrote a story where a more traditional-looking grandmother transforms into one of these impossibly cute "anime" grandmothers overnight? How would her grandson react to that?!' Some of my ideas are kind of weird, I
guess.
:
I
In the end, A Winter's Daydream ended up being a little more serious in tone than I originally intended, though it still has some goofy moments. I'm quite fond of it, and I hope other people enjoy it, too! (Sadly, while the grandmother character is the main heroine of the story, in the sense that she's the female lead, she's not a love interest. I hope this doesn't disappoint anybody haha…)
As for the 'yuri story with
bunnies
' I mentioned on twitter a while back… I actually finished writing the first draft, but I'm not sure when/if I'll release it. It's quite a cute, fluffy story (I suppose it's similar to Strawberry Vinegar in tone), but I have other scripts I'd rather work on before I get around to polishing this.
PL: Thank you for your time!
And this concludes my series on
ebi
-
hime
, for the time being. I want to give my utmost thanks to
ebi
herself, for putting up with the somewhat-prolonged process of preparing this interview and some of my purposefully-annoying questions. It was a pleasure and a privilege to work with her on this and I'm extremely happy that I can share her insights with all of you through this article. Obviously, this is not the last time her VNs are present on my blog - in two weeks, you'll see the first part of my Yuri Game Jam retrospective, which couldn't possibly be complete without mentioning Ebi's work. Also, I'll definitely work on covering more of her commercial titles in the future, both the old and the newly released ones.
So, I hope you've enjoyed this content and will join me again in my adventures through the world of EVNs. Until the next Friday! :)